"All kids need is a little help, a little hope, and somebody who believes in them." – Magic Johnson
In the context of esports, that "somebody" is a coach. A coach plays a critical role in the success of a youth program. A good coach can help players develop into better individuals, set and achieve goals, have fun, and build connections with their teammates. In fact, studies have shown that coaches who prioritize player development over winning produce athletes who are more motivated, confident, and have higher self-esteem.
Often when people think about a youth esports coach's responsibility, they only think about in-game skill development. However, a coach's responsibility is much more than that, some of it includes:
fostering personal development and growth.
directing, motivating, and guiding individuals and teams toward achieving their goals.
creating an appropriate learning environment that is both safe and fun.
providing effective communication to enhance technical abilities, test performance, and monitor progress.
advising and monitoring nutrition, lifestyle, and mental and physical health to optimize performance
inspiring players to perform at their best and outdo their competition when it matters most
Being a youth esports coach entails much more than simply being proficient at a particular game, it entails also developing soft skills such as leadership, communication, and teamwork. Unfortunately, many esports coaches are primarily expert gamers who lack proper training in coaching and mentoring. This gap in knowledge and training can lead to a lack of personal development and growth for all players, not just those who aspire to be top athletes.
This is where the Esports Coaching Academy comes in. Our program is designed to provide youth esports coaches with the necessary skills and training to teach in-game skills, foster personal development and growth, direct and motivate individuals and teams toward achieving their goals, and create a safe and fun learning environment. Our coaching methodology is based on sports science, child development, and psychology and is adapted to the specific needs of esports.
Investing in quality coaching can have a significant impact on the success of a youth esports program. At the Esports Coaching Academy, we believe that all kids need access to a qualified coach, and our goal is to provide coaches with the necessary tools to be that "somebody" that helps develop the next generation of esports talent.
The ECA Coaching Certification.
Through the ECA Coaching Certification, you can access all the education and knowledge you need to start your esports coaching journey. Our youth esports coaching certification covers some of the following topics:
The history of esports and how it has evolved over time.

The different types of esports games.

The commonalities and differences between traditional sports and esports.

The importance of esports training for the future of the esports industry.

The purpose of esports training.

How you should approach esports training for different age groups.

How you should engage parents through your esports program.

The physical attributes that matter for esports and why.

The importance of educated and motivated coaches.
We also offer in-depth courses on a variety of games that will equip you as a coach with everything you need to start effectively coaching your group of players. You can think of these courses as your foundation, allowing anyone with a general knowledge of games to quickly get up to speed on the most important mechanics and skills to train in each title, so you can be an effective support and accountability partner for your players. 
The ECA Platform.
The ECA platform serves as your digital assistant coach. Through it, you can access exercises, training sessions, and full courses across a wide range of games along with game-agnostic activities like physical exercises, stretches, and social games to make sure you are never short on knowing what activities to do with your players to build them into an all-round fantastic esports athlete.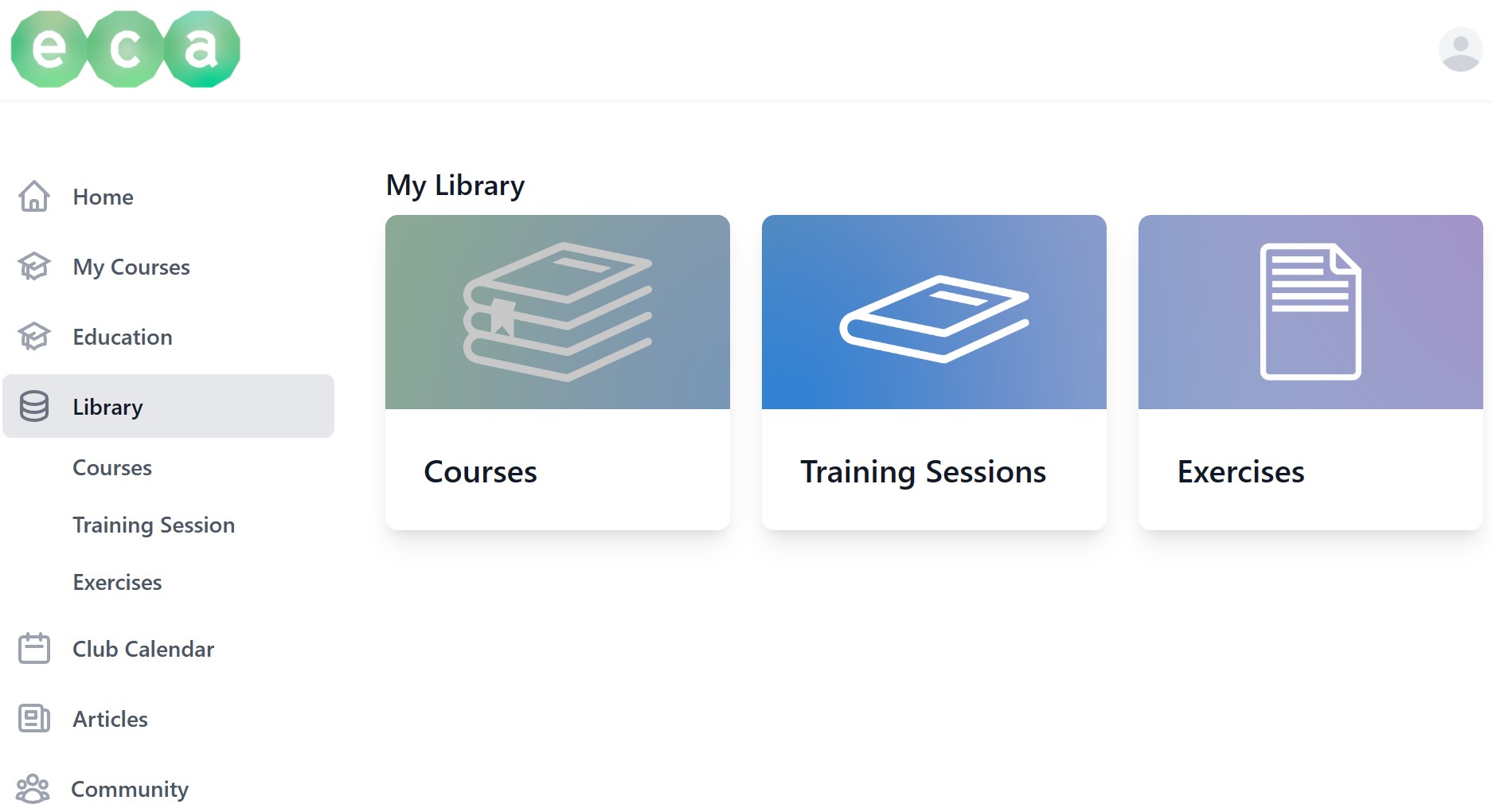 The ECA platform also keeps track of your scheduled classes making sure you are always up to speed with your next steps as a coach. This is done through the feed which also features regular content updates, helping you further develop your skillset as a coach, delivered by experts in their field.
Additionally, the ECA platform is constantly updated with new articles, and patch highlights whenever something changes across the games you are offering classes in. So, you don't have to browse through dozens of websites to find the latest patch notes and figure out on your own how this will impact your program. 

Run pre-made programs.
If you are new to coaching and just want a quick way to get started, the ECA platform offers ready-to-run courses for you to execute, allowing you to keep all your focus on connecting with your players and growing the number of customers your club has. The pre-built programs differ in total time and the number of exercises included, allowing you to easily pick a course that fits your timeline and strategy and start offering classes in your facility as quickly as possible. If you need to supplement a course with additional training sessions or you fancy shaking things up by swapping out exercises within a training session, the platform offers you full access to the exercise library, which contains everything you need to fine-tune your program to meet your needs as well as your players. 

Use the ECA building blocks to build any type of training session or course you want.
Once you are up and running and are feeling more confident in your coaching ability, the ECA platform allows you to build your own curriculum from scratch utilizing the different ECA building blocks available in the exercise library. Using the ECA course builder, simply combine individual exercises from the library to form a training session and add it to your custom course until the curriculum for your upcoming season is ready. You can also add entire training sessions available in the training session library, both with or without modifications, directly to your course making it even easier to lay out the plans for your coming season

The foundation of a great youth program is an educated coach.
The future generations of esports athletes need access to educated coaches. Coaches who understand children's cognitive, emotional, physical, and psychological development in order to create programs that children can positively and appropriately engage and benefit from. We at ECA have the comprehensive education and resources coaches need to nurture young gamers. 
To see our offerings in action, contact our team.