We are pleased to introduce a significant advancement in the way we deliver content through the ECA Platform. Allow us to introduce Sessions of the Week — an evolution in our training content delivery strategy that is set to redefine your esports coaching experience.
In our continuous effort to empower coaches and elevate esports training experiences, we have reimagined our content delivery process. The Sessions of the Week introduces a weekly content rotation designed to streamline and invigorate your esports training sessions. 
Designed with your convenience in mind, Sessions of the Week is designed to make esports coaches' lives easier when it comes to planning and preparing their weekly training sessions. For those coaches who are not following a set Course and are working on a week-to-week basis, this new approach eliminates painstakingly charting out training sessions in advance. 
What does the Sessions of the Week entail?
On a weekly basis, ECA will highlight two meticulously curated esports Training Sessions for each fully supported game on the platform (Fortnite, Rocket League, and Valorant, with Minecraft, Overwatch 2, and Counter-Strike: Global Offensive, coming soon). These highlighted Training Sessions fall into one of three categories, each designed to address various coaching and athlete requirements.
New: Experience newness with sessions that blend original exercises with existing ones. These sessions may explore fresh mechanics and concepts, or breathe new life into familiar topics with a refreshed structure and exercises.

Refreshed: We bring vibrancy to established Training Sessions by infusing them with new elements. A combination of adjustments and new exercises ensures these sessions remain relevant and engaging.

Existing: Recognizing the value of repetition, we feature unchanged sessions that continue to effectively develop specific mechanics or concepts.
These sessions embody a holistic approach, encompassing learning through play, mastering novel concepts, refining existing skills, and embracing both casual and competitive play.
As an alternative to running an existing course, the Sessions of the Week equips esports coaches with flexible tools to create adaptable week-to-week training schedules, aligning seamlessly with athletes' evolving training needs and preferences.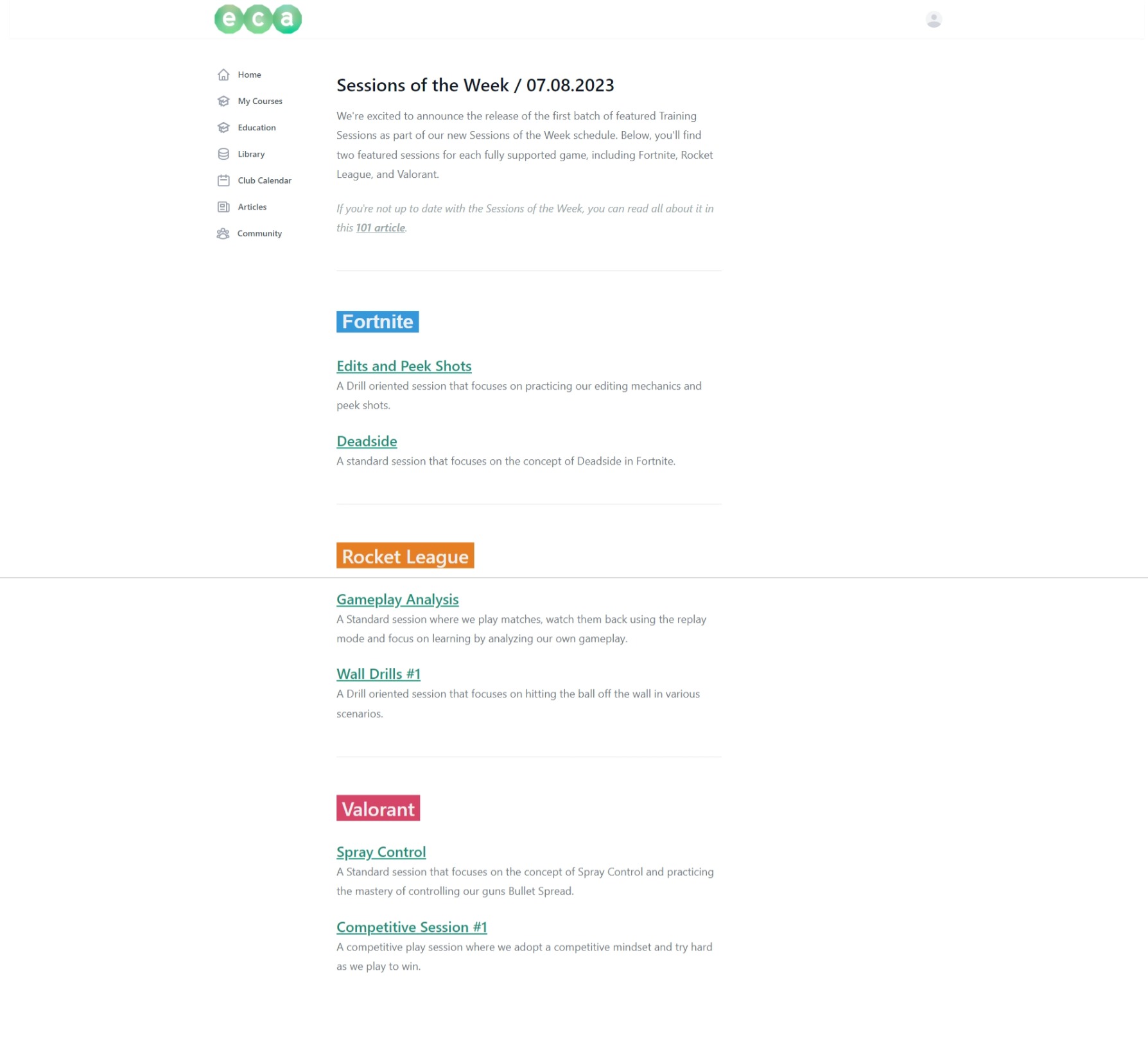 What can you expect?
As a result of this innovative strategy, our platform will consistently offer fresh content, encompassing both exercises and training sessions. Simultaneously, existing content will undergo frequent updates to ensure relevancy. Coaches who prefer customizing their training sessions and courses will have a wealth of high-quality content options to choose from.
In Conclusion
The introduction of ECA Sessions of the Week marks an exciting chapter in our product evolution. This new approach streamlines content delivery while expanding the diversity and quality of esports training content. As we embark on this transformative journey, we invite you to Book-a-Demo and explore how we can make it easier for you to plan and schedule your training sessions.